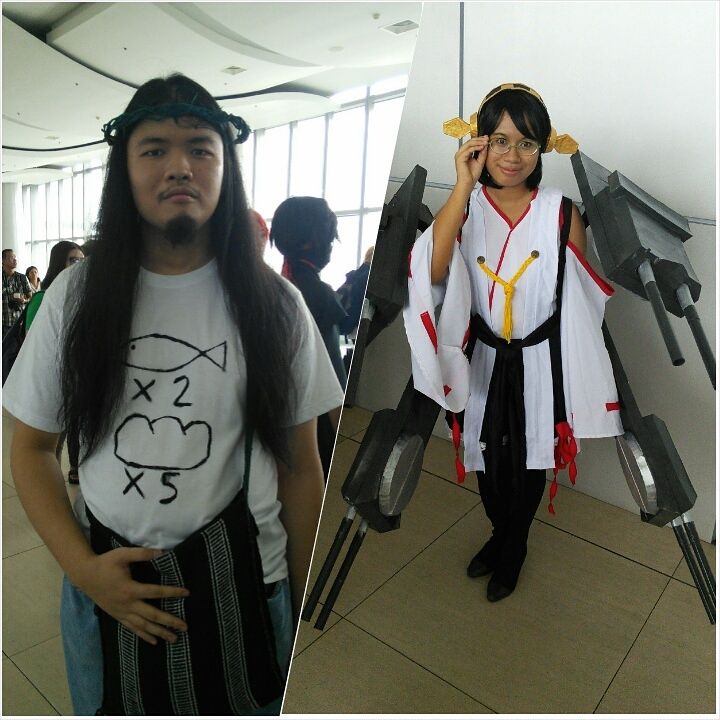 I went as Kirishima, complete with the cannons, and James went as Jesus. He had to do a simple cosplay because his actual task is to support me with the cannons he made. We were 'almost' prepared for anything. We had been planning for this. Our time has come.
Seriousness aside, it was really fun. What made it fun was the Kancolle cosplay group we just happened to had met on that day. They were such a nice and fun bunch and I enjoyed how they love Kancolle.
The night/day before
We were cramming. We were cramming like there is no tomorrow... rather... we were cramming like tomorrow is just around the corner.
But in the end, we didn't make it. for Saturday. To make it worse, it even rained. Props with water-based paint really isn't good to carry around in the rain.
A decision needed to be made: I had to drop out of Potted Potter.
Potted Potter was my Sunday thing. The plan was I'll go to Cosmania Saturday and Potted Potter on Sunday. I really wanted to see Potted Potter that's why I was determined to finish all my stuff before Friday. But not everything was just "my stuff" I somehow forgot a single important factor -James' stuff.
And we had to cram that all the way to Sunday.
Come Sunday, we had another problem: the cannons were too bulky for public transportation! Only during these times do I wish I have a car. Good thing we found and rented a van.

In the end we made it safely to the venue and had fun.